"Believe me, Oracle, your head will do you no good separated from your shoulders. Tell me what I want to know. The amulet!"
The Oracle of Tesgara cowered as never before, appearing more frail than her ancient years had hence bespoke. Her lined face grew ever more pallid just as those eerie white eyes of hers fluttered to a close.
Nikolas, Regent over the kingdom of Thaylandria, grabbed her shoulders before she collapsed to the floor. "I haven't the time for your contrivances." He struck her face hard without a second thought. There was too much at stake. Her eyes flickering, finally remained open and he tossed her downward.
Turning his back on her, he observed his own reflection in the silver shield hanging on the wall. After straightening the diadem atop his head, the green stone within flickered in the torch light in unison with his own dark brown eyes. He caressed the gold curve of the small crown. It was that of a king he desired, but that would only come after vanquishing his enemies. He twirled his cerulean robes as he returned to the old witch still quivering in a corner upon the stone floor.
Hunching over her, he seethed inside. Only through maintaining all self control, did he refrain from squeezing the last rancid breath out of the old woman. She still held secrets he needed if his plan was to come to be realized.
"Disclose to me all that you know of this amulet?" Grabbing onto her coarse gray robes, he raised her off the ground close to his face. "You will tell me." He dropped her back to the ground and clenched his hands. Sucking in a breath, he gained control over himself again.
"The High Oracle," she croaked out while wiping spittle mixed with blood from her chin.
He narrowed his stare upon her. "What of her?"
"Only the High Oracle knows of the location."
He forced a flattering smile to eclipse his face. "Yes, but as her own favorite student she must have related to you more than you have revealed. You shall be rewarded for your loyalty to the crown." He reached out an upturned hand and helped her into a sitting position.
"The Tamzyn Amulet has been under the safeguard of the High Oracle here in Glynar these past thousand years. With its power, you can destroy the strongest of your enemies. A stone white as a dove's breast, it glistens with the magic of the ancients."
Nikolas widened his eyes. "Yes, yes!" This was what he'd been working for all these years while he bided his time to claim the throne of Thaylandria as his own. "And where is it? Where is the amulet?"
****
Oh, sorry, I was becoming overly engrossed in my new romantic fantasy novel, The Princess and the Rogue. Don't you love a good fantasy novel where you can forget about the present and get lost in a past that never was? I grew up loving to read fantasy: David Eddings, JRR Tolkein, CS Lewis, RA Salvatore, Anne McCaffrey, Tracy Hickman and Margaret Weis…the list could go on and on.
Hi, I'm Cindy K. Green, one of the authors here at the Paranormal Romance Writer blog. As an author, I've been asked many times what is the one genre I don't write in but would like to. In years past the answer has been: FANTASY. You see, I already write in several genres: Inspirational, Contemporary, Suspense, Historical and now I can add Fantasy to the lot.
I've been planning my fantasy novel for some time. I wanted to write a FUN fantasy novel. There are so many dramatic, serious epics and I wanted to write one with loads of humor while still staying with the recipe for a good fantasy novel.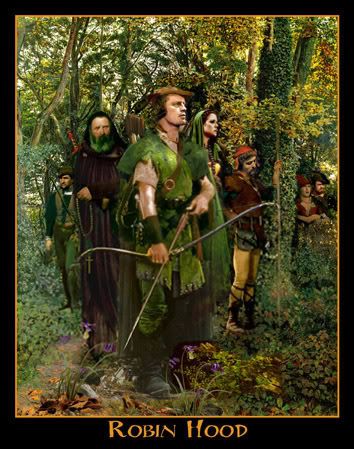 Two of my favorite literary heroes have got to be Robin Hood and the Scarlet Pimpernel. What do these two have in common? They both fight injustice with a comedic flair. Right? I used that in creating my hero in The Princess and the Rogue.
When I first started writing, I wrote Young Adult, Historical and Inspirational. I was a middle school teacher after all. And as my writing career took off, I stayed with the sweeter side of romance. I've had the most fun creating my characters in whatever genre but nothing was so fun as writing my fantasy novel--which surprisingly came out a lot more sensual. Last spring, I finished reading a friend's book. It was a new spin on the Robin Hood myth, and I loved it. It also inspired me to begin my fantasy after all this time of procrastinating. I was on fire and the first draft wrote in only four weeks.
I look forward to sharing more of this book which should release from The Wild Rose Press sometime in 2009. It takes place in the troubled kingdom of Thaylandria--A sheltered Princess, a masked Outlaw, and a Land forbidden of magic.
Stay Tuned!
Read excerpts on my website